In this article, I've collated a list of FREE CRM tools your small business can hop onto easily to get your first-party data capture journey and grow your business through better customer insights, better timing, and content strategy.
The list comprises tools that are not just free, but also meet the following criteria:
No cost to start
Scalable
You can continuously use for free (not a trial)
Easy-to-understand user interface (UI)
Vast amount of publicly-available support and training
Quick Recap, What's a CRM For?
CRM stands for Customer Relationship Management, the term is actually describing a process of how businesses develop and manage their relationship with their leads and customers, but over the years, the acronym has morphed into describing digital tools that automate the entire process.
In the world of CRM, these are the most well-known brands in the market, in no particular order:
Salesforce
Microsoft Dynamics 365 (I used to work for this project!)
Oracle CRM
SAP CRM
Zoho CRM
HubSpot
I can guarantee that almost all of the large, household brands you buy use one (or a combination) of these systems.
I know what you're thinking, "I'll just use one of those!"
Whoa, who… Hold up.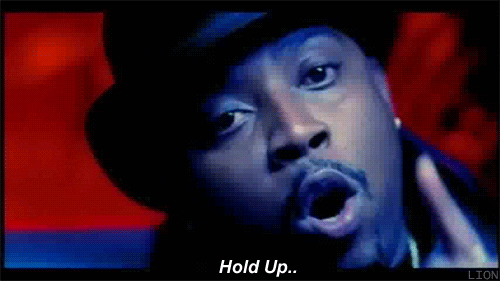 The solutions above are generally targeted at medium to large enterprises and typically require substantial financial investment (6-7 figures are common), lengthy integration, and a steep learning curve for an organization.
As a small business, you might realize quickly that these products are designed to integrate with a vast amount of correlated product suites from supply chain to HR to project management to sales and customer service. It's a doozy!
Focusing on your first-party data collection journey, let's just focus on ingestion of leads, decision-making support with collected data, ease-of-use, and future-proofing for small businesses.
Quick Clarification – CRM is NOT the Same as Email/Outbound Marketing Tool
The term CRM tends to get clumped with email/outbound marketing automation tools mainly because most email marketing tools contain basic CRM features as well. However, the tools have very different purposes and objectives, and if your business is not email-reliant, those email marketing automation software will not fit your needs.
My Top 3 Recommended CRM Solution for Small Business
Quick disclosure, some of the links below are affiliate links wherein I may receive a small compensation for recommending the product. However, there is zero added cost to you, and in fact, using the links below may give you a special discount as well, so it's a win-win.
Hubspot CRM
Wait, what? Didn't you just say that Hubspot is for the larger organizations and they cost a gazillion of resources to implement?
It can be, but it doesn't have to be.
Just as I've mentioned that all these larger CRM providers have other integration products, Hubspot has their Marketing Hub, Sales Hub, Content Management, and Service Hub to integrate into their CRM tool. However, their free CRM service is more than sufficient for lead management.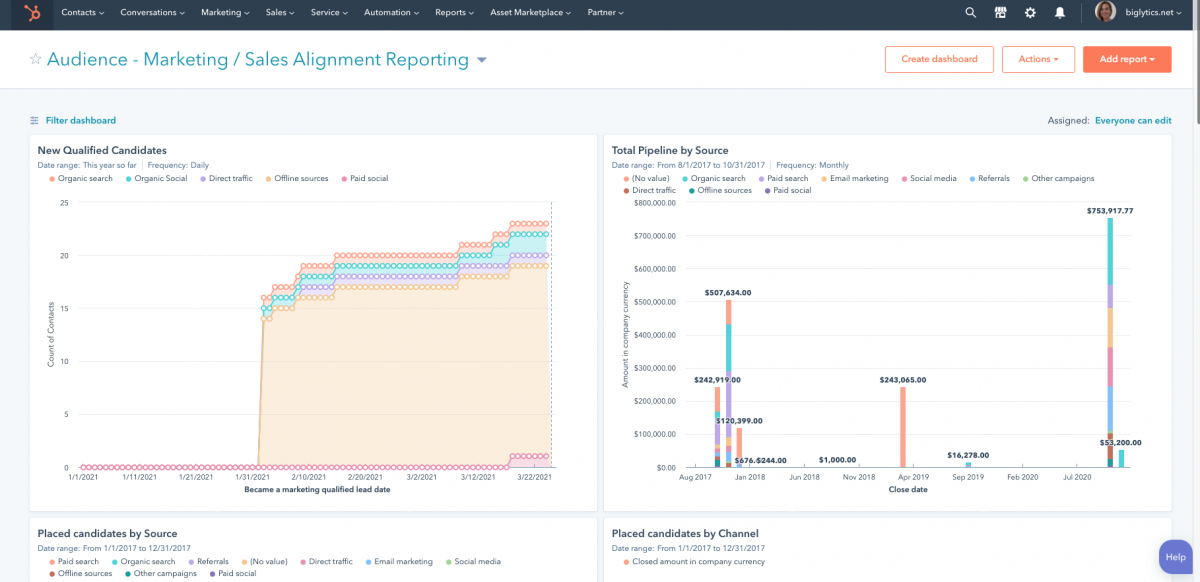 I've used the free Hubspot CRM a couple of years in the past and I must say that it's very intuitive to use and it's more than you'll ever need for a small business. The free tool offers:
| | | |
| --- | --- | --- |
| Contact management | Gmail and Outlook integration | Deals |
| Contact website activity | App Marketplace integrations | Tasks & activities |
| Companies | Custom support form fields | Company insights |
| Prospects | Ticketing | Forms |
| Ad management | Shared inbox | Reporting dashboard |
| Email tracking & notifications | Email templates | Canned snippets |
| Documents | Calling | Meeting scheduling |
| Messenger integration | Custom properties | |
It's an extensive and generous list of standard features at no cost and no limitations, unlike other systems that cap your record size for the free tier. Even their paid standard basic tier is only $70/month, and if your business can't afford $70/month, I think there are bigger problems to solve than a CRM system.
Interested? Go sign up for free here.
Agile CRM
Agile CRM is free for up to 10 users. I think that's a good number of core users for most small businesses to get started and their Starter pack starts at $8.99 per user per month if you go beyond.
Agile CRM offers the following key features that small businesses would love to digitize:
| | | |
| --- | --- | --- |
| Marketing Automation | Up to 1,000 Contacts | Free Plugin |
| Online Appointment Calendar | Web Forms and Popups | Free Email Marketing |
| Google Apps Sync, Including Gmail | Deals and Sales Automation | Social Data |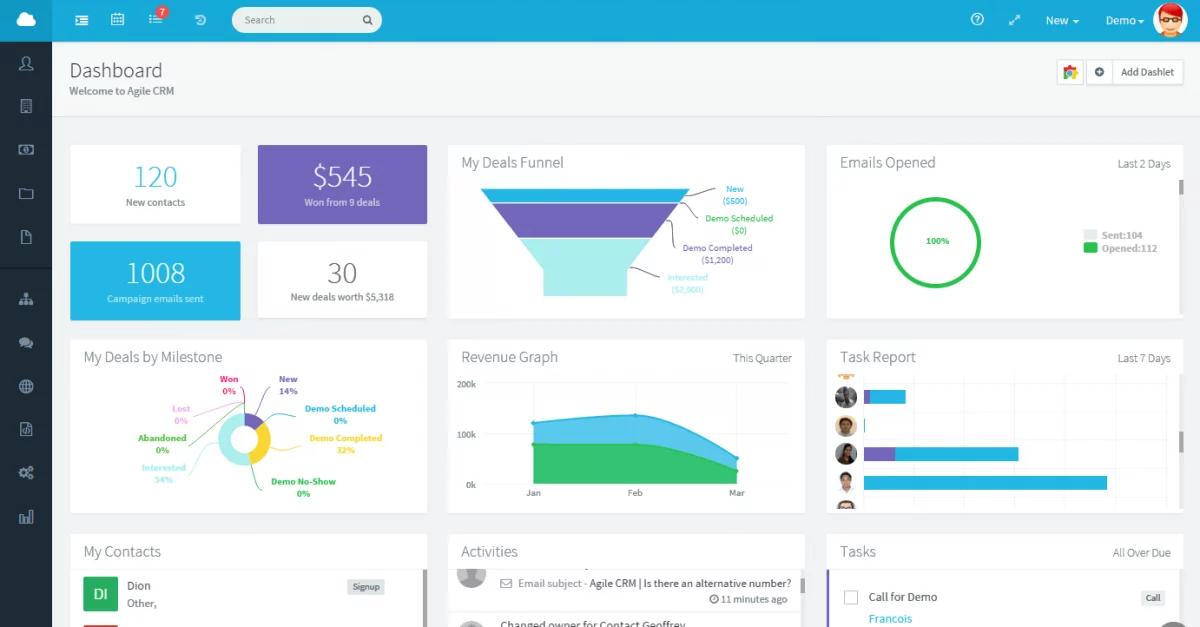 I find Agile CRM an easier tool to pick up and start off with, particularly if you don't think your headcount and business size will explode to MNC level anytime soon. It has more than sufficient integration options and data syncing for almost any business.
Their drag-and-drop marketing automation designer is super easy to use and visualize if you need to explain how everything works to management or staff alike without going all techy.
It's not as well supported in training, industry-standard, and future expandability compared to Hubspot, but it's a great choice for smaller businesses and a lot faster to implement for smaller businesses.
If you're interested to give it a shot, check out AGILE CRM here.
Totango
Now this one's a little different. Totango is a new kid on the block and a true example of a start-up. Their approach focuses on providing a 360-view of your customer, particularly in the Software-as-a-Service (Saas) space. If your business is primarily digital solutions, Totango is a serious contender.
Their core strength circles around their AI-powered customer segmentation, customer journey optimization, customer account health analysis, and their vast integration with larger systems, which is a common requirement in the SaaS space more than traditional retail, for example.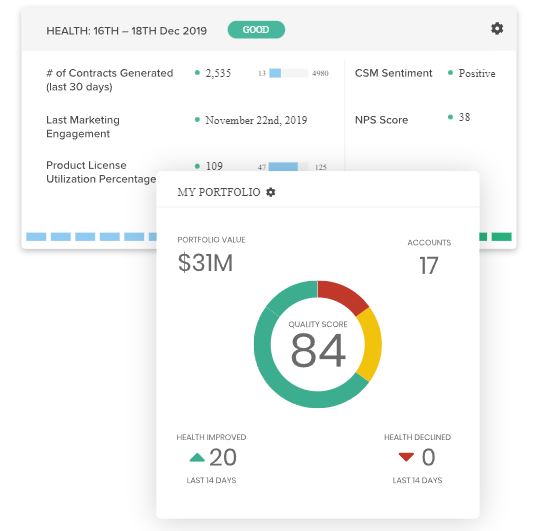 Their Community Edition is the free product for you to hop onto, and as mentioned, this is a significantly more "tech-centric" product that probably won't be as easy to use as Agile CRM and Hubspot due to the typical jargon-filled UI and resources, but if you're in the SaaS space, I guess it's a native language for you anyway.
Totango guides your acquired customer data from onboarding to repurchase/renewal and gives you a simple, unified view of each client's lifetime value.
Granted, the UI needs work as it's just too cluttered at the moment, and the resources, as mentioned, seem to be written by developers and testers rather than documentation specialists (ahem), again, if you're in the SaaS industry, you're used to it and probably adapt quite quickly.
Want to give Totango a try? Click here.
You Want Insights to Make Better Decisions, Not Just Data Collection
Implementing a first-party data acquisition strategy and choosing a CRM tool is not just about collecting data.
Many businesses run into the issue of being obsessed with data collection but have no clue on how to sift through the data and make insightful, business-relevant, and customer-satisfying decisions with the data collected.
Don't waste all the efforts you've put in deploying a CRM and collecting first-party data, make sure you align and make plans on how to use all the information you've collected, and let technology carry the heavy load in sorting information for your genius team's minds to drive great business decisions.
Don't Forget to Connect With Me on Linkedin!